National Parks are protected areas of outstanding natural beauty. The first National Park was Yellowstone National Park, USA. Yellowstone was set up in 1872.
The National Parks of England and Wales
National Parks of England and Wales defined by an Act of Parliament (1949) as:
'areas of great natural beauty giving opportunity for open air recreation, established so that natural beauty can be preserved and enhanced, and so that the enjoyment of the scenery by the public can be promoted'
There are 11 National Parks in England and Wales. These are:
5. Snowdonia
8. Exmoor
9. Dartmoor
10. Norfolk Broads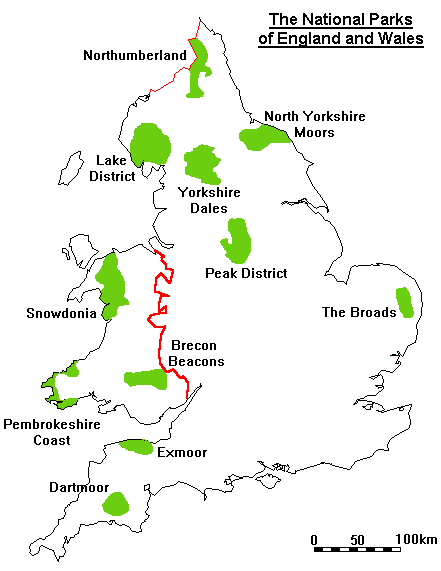 Most National Parks are located in upland areas of northern England and Wales (map).
Honeypots are area which attract many tourists. They are so called because tourists flock to these places like 'bees around honey'.
Tourism causes many problems in National Parks. These include -
Litter
Traffic congestion
Footpath erosion resulting from overuse
Conflict with other landusers e.g. farmers
Castleton A tourist honey pot in The Peak District
Castleton is a village located in the Peak District National Park. Full details about it's attractions, problems and management solutions can be found on the Peak District Web Site or here on GeoNet.